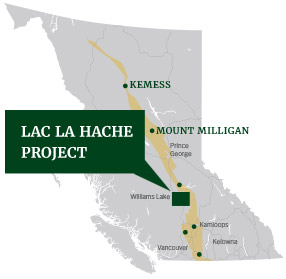 EnGold Mines Ltd. is focused exclusively on exploration of its 100% owned Lac La Hache Property, located within the largest gold-copper trend in Canada near the town of Lac La Hache in the Cariboo region of central British Columbia, Canada.
The closest active mining projects to EnGold's property are Gibraltar and Mt. Polley mines 90 kilometres to the north and New Afton 170 kilometers to the south.
The 25,750 hectare (94.4 square mile) Lac La Hache Property covers multiple drilled prospects including recently discovered Copper Skarn Zone, Aurizon Gold-Silver-Copper Zone , the Spout Magnetite-Copper Deposit , the Berkey Porphyry Prospect, and numerous other significant mineral occurrences. Collectively, these deposits, prospects and showings indicate the presence of a large, alkalic porphyry-copper system, similar to several other mines and deposits. A more detailed review of the geological model driving EnGold's exploration strategy is available here.
Located only 14 kilometres from Highway 97 and the town of Lac La Hache, the Property enjoys ideal infrastructure: close proximity to gas, power, rail, accommodation, food, supplies, workforce, year-round access, internal road network, and gentle terrain.
EnGold's 6,420 square foot office/industrial facility is situated on a 2.3 acre fenced yard, providing a world-class drill core-logging and core storage facility.