ALS GoldSpot Identifies Multiple New Targets at Lac La Hache, Outlines Potential for Significant Growth of Current Copper/Gold Resources
For Immediate Release. March 6, 2023. Vancouver, BC. David H. Brett, President & CEO, EnGold Mines Ltd., (TSX-V: EGM, "EnGold" or the "Company") reports that ALS GoldSpot Discoveries Ltd. has outlined 66 priority exploration targets at the Company's 100% owned Lac La Hache Copper Property in the Cariboo region of BC (the "Property"). Several of the targets are new, in previously undrilled areas, and some identify potential for significant expansion of the Spout, G1 and Aurizon Deposits. The ALS GoldSpot targets are the result of a months-long Artificial Intelligence/Machine Learning and domain expert consulting engagement, leveraging the Property's vast exploration database compiled over several decades of work.
"The ALS GoldSpot results indicate potential for at least a doubling of the footprints of the Spout & G1 Copper skarn deposits and the Aurizon Gold/Copper hydrothermal deposit," said EnGold VP Exploration Rob Shives P.Geo. "The analysis has also outlined several new targets in undrilled areas well outside the primary 10 kilometer mineralized corridor at Lac La Hache."
"With the bullishness around copper, we're thrilled at these highly encouraging findings," said EnGold President & CEO David H. Brett. "The ALS GoldSpot insights will help guide EnGold as we seek to expand our currently outlined deposits and as we look to discover more."
The images below are derived directly from the multi-layered Machine Learning integrated target compilation, without editing, and are thus rich in information. We have annotated existing areas of drilling/mineralization as black dashed polygons and the ML predicted expanded targets as red polygons, for each area shown. White dots are existing collar locations and may lie outside the black polygons for angled holes. Orange and brown cells mark areas with highest ranking. Although 50 meter cells are shown in these images, more detailed targeting is possible and will be conducted prior to drilling. Many additional targets are not shown. We are excited to work with the multi-layered information produced by GoldSpot in the coming months to fine-tune the 2023 and future exploration programs. To view additional images showing Property overviews and all existing Deposits and Prospect locations, please visit www.engold.ca.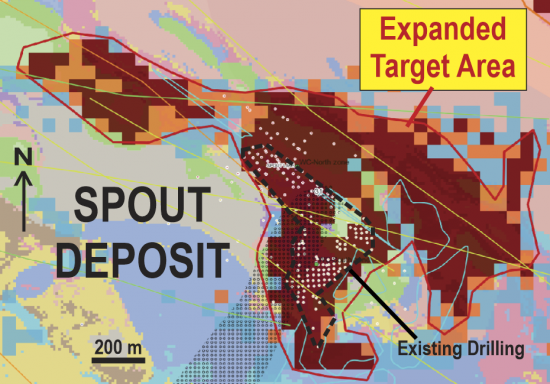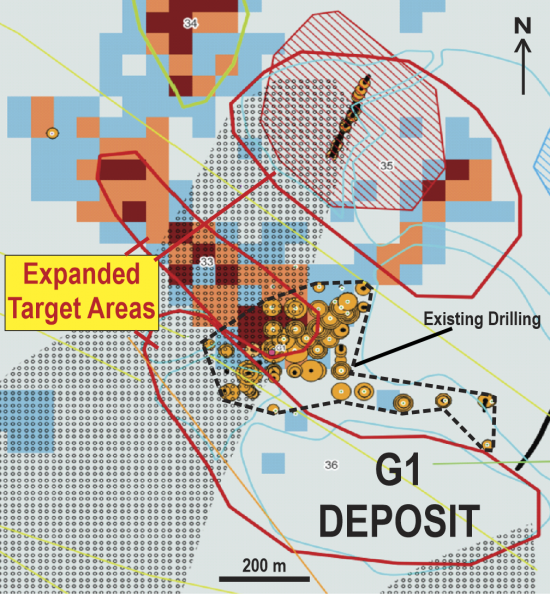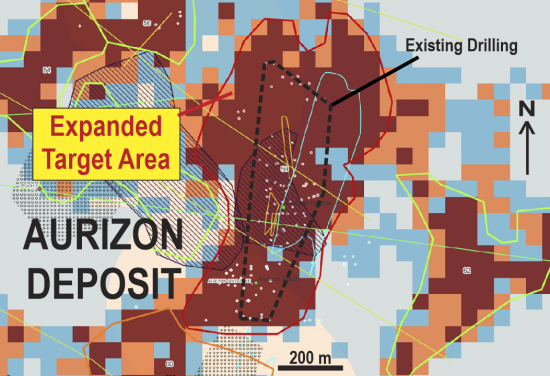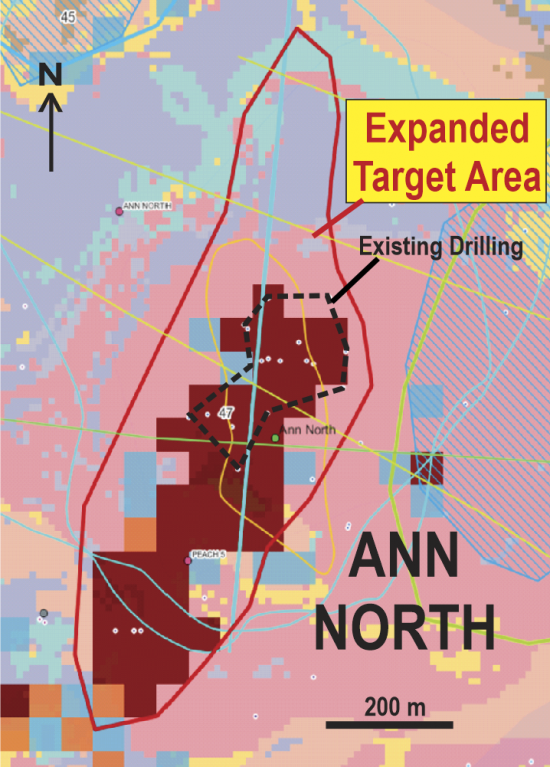 Rob Shives P.Geo., VP Exploration and a Qualified Person as defined under National Instrument 43-101, has reviewed and approved the technical content of this release.
About EnGold
EnGold is a Vancouver-based copper, gold, silver, magnetite exploration company focused solely on its 100% owned Lac La Hache property in the Cariboo region of BC which hosts the Spout Copper Deposit, the Aurizon Gold Deposit and the G1 Copper Deposit and other targets within a large porphyry mineralizing system. With world class infrastructure at its doorstep, Lac La Hache is a great location to be exploring.
EnGold Mines Ltd.
David Brett
President & CEO
For further info contact David Brett, 604-682-2421 or david@engold.ca
This news release contains "forward‐looking statements" within the meaning of Canadian securities legislation. Forward‐looking statements include, but are not limited to, the expected use of proceeds of the financing. Such statements and information are based on numerous assumptions regarding present and future business strategies and the environment in which EnGold will operate in the future. Certain important factors that could cause actual results, performances or achievements to differ materially from those in the forward‐looking statements include, amongst others, the global economic climate, dilution, share price volatility and competition. Although EnGold has attempted to identify important factors that could cause actual results to differ materially from those contained in forward‐looking statements, there may be other factors that cause results not to be as anticipated, estimated or intended. There can be no assurance that such statements will prove to be accurate, as actual results and future events could differ materially from those anticipated in such statements. Accordingly, readers should not place undue reliance on forward‐looking statements. EnGold does not undertake to update any forward‐looking statements, except in accordance with applicable securities laws.