EnGold Outlines Large, Undrilled IP Anomaly, Drilling of the New Target and Follow Up at New Aurizon Gold Discovery to Start Soon
For Immediate Release. November 1st, 2018. Vancouver, BC. David H. Brett, President & CEO, EnGold Mines Ltd., (TSX-V: EGM, "EnGold" or the "Company") reports that recent new Induced Polarization (IP) geophysical surveying has resulted in the identification of a new and compelling drill target at the Company's 100% owned Lac La Hache copper, gold, silver property in the Cariboo region of BC. A high intensity (up to 38 mV/V) and large (1500 m x 1000 m) IP chargeability anomaly located approximately 1000 m east of the G1 Copper Zone presents an undrilled porphyry copper-gold target and may indicate an intrusive that is genetically related to the copper-magnetite skarn mineralization at G1 Copper, providing insight for future drilling. Drilling of the new IP target is expected to commence November 12th.
Weak, positive IP responses occur at the G1 Copper Zone, where relatively deep (350m) semi-massive magnetite-copper mineralization was discovered using ground gravity surveys. Recently announced DDH GP18-42 tested this IP response about 200 m southeast of G1 Zone discovery hole G16-01, and it intersected narrow intervals of "G1-style" magnetite-copper within a broad 58 m interval of "porphyry-style" alteration grading 0.47 % Cu. The geological results in GP18-42 suggest it may be proximal to a porphyry-style intrusion, possibly acting as a source for the carbonate replacement style of mineralization at G1.
"Recent modelling of historical and new geophysics supports this interpretation and presents a "classic" target typical of many porphyry deposits throughout the Quesnel Trough" said EnGold VP Ex. Rob Shives, P.Geo. "A strong chargeability anomaly (up to 38 mV/V here, the strongest untested IP chargeability response on the entire Project) is coincident with a magnetic low and a radiometric eTh/K low, on the flanks of a magnetic high. This has been demonstrated at most deposits/mines within the Afton/Ajax district, and elsewhere. We are excited to test this high priority target".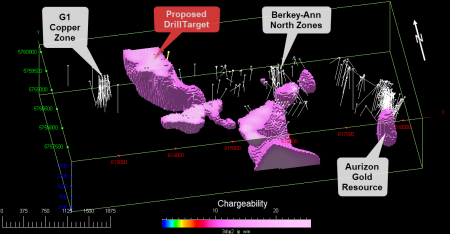 Crews will mobilize next week to follow up the recently reported high grade gold assays near Aurizon South. Further surface sampling and mapping of the structure is planned prior to planned drilling later this month. Also, investigation of the other gold anomalies will get underway. Weather is not expected to be a factor.
About EnGold
EnGold is a Vancouver-based copper/gold exploration company focused solely on its 100% owned Lac La Hache property in the Cariboo region of BC. EnGold's vision is to identify and delineate mineral resources at Lac La Hache that could potentially support an economically feasible and environmentally sustainable underground mining operation. The Spout Deposit, the Aurizon Gold Deposit and the 2017 G1 Copper Discovery, located within a 7-kilometer area on the property, are all considered by EnGold to be potentially underground minable targets. With world class infrastructure at its doorstep, Lac La Hache is a great location to be exploring. EnGold's corporate philosophy rests on three interdependent pillars: Environment, Engagement and Gold. Through sound environmental stewardship, commitment to transparent engagement with local communities, the Company is dedicated to driving exceptional shareholder and stakeholder value by fulfilling its vision to profitably supply valuable and much needed metals to the global marketplace.
Rob Shives P.Geo., VP Exploration and a Qualified Person as defined under National Instrument 43-101, has reviewed and approved the technical content of this release.
EnGold Mines Ltd.
David Brett
President & CEO
For further info contact David Brett, 604-682-2421 or david@engold.ca
This news release may contain "forward‐looking statements". Readers are cautioned that any such statements are not guarantees of future performance and that actual development or results may vary materially from those in these "forward looking statements." Neither the TSX Venture Exchange nor its Regulation Services Provider (as that term is defined in the policies of the TSX Venture Exchange) accepts responsibility for the adequacy or accuracy of this release.